About Me
Dr Ruth Yeoman is a Fellow of Kellogg College, University of Oxford and Associate Professor of Business Ethics, Northumbria University. She is an expert in applying the ethics and practices of meaningfulness and mutuality to work, organisations and systems. Drawing upon her academic research, she has worked with large and small private and public sector organisations to develop new approaches based on a synthesis of meaningfulness and mutuality. Example research consulting projects include: developing a mutual leadership programme for Rochdale Boroughwide Housing; applying mutuality to whole council public service transformation for Cheshire West and Chester LA; strategic use of mutuality in a coordinated UK financial mutuals sector for the Association of Financial Mutuals and the Building Societies Association. For the Shell Scenarios team and senior leaders, she spoke on 'Meaning and Purpose in Sustainable Transitions', exploring the psychology of transition.
At Oxford's Kellogg College, Ruth managed the Centre for Mutual & Co-owned Business. For Professor Colin Mayer, she established the Mutuality in Business programme, Said Business School. For Professor Birgitte Anderson of the Big Innovation Centre, she led a collaboration including the Bank of England and the Office of National Statistics to investigate the role of intangible assets in national wealth creation. She has served on HM Treasury's Council of Economic Advisors, the Fabian Society's Changing Work Centre, and New York University's (NYU) working group – 'The Hard Problem' – chaired by Professor Kwame Anthony Appiah.
Ruth's academic research focusses on meaningfulness and mutuality in organisations and systems. She has published two monographs, Ethics, Meaningfulness, and Mutuality for Routledge Studies in Business Ethics (2020), and Meaningful Work and Workplace Democracy: a philosophy of work and a politics of meaningfulness for Palgrave Macmillan (2014).  She is lead editor of the Oxford Handbook of Meaningful Work (2019), and co-editor of the JMS special issue on Meaningful Work (2019). With Professor Carl Rhodes (University of Technology, Sydney) and Professor Jean-Philippe Deranty (Macquarie University, Sydney), Ruth is co-editing a Special Issue for Organization entitled 'Does Work Have a Future?'
Currently, Ruth is a member of the European Network on Workplace Democracy, Centre Marc Bloch, Berlin; the Meaning and Purpose Network (MaPNet), King's College; The Business Corporation as a Political Actor, Philosophy Department at Utrecht University, and a friend of The Better Future Network of investors and entrepreneurs (https://www.betterfuturenet.org/). She worked with Hermes Retail Estate to develop the concept of the Meaningful City, and co-wrote the 2020 JPI Urban Europe Policy Paper on Dilemmas of Public Spaces. Ruth is a Board Advisor for the EU Social Innovation Academy, a Fellow of the RSA, a Trustee of the Tavistock Institute (Chair of Human Relations Journal Committee). She is an Associate Editor on the Editorial Board of the Review of Social Economy.
In 2021, she will be taking up a visiting Senior Fellowship at the Humanities and Social Change Centre, The Humboldt University, Berlin. She will be responding to Professor Alex Honneth's Benjamin Lectures on the Crisis of Labour.
Ruth has degrees from Imperial College (BSc. Physics), London Business School (MBA), and Royal Holloway, University of London (MA in Politics of Democracy, PhD).
An Economics of Meaningfulness for Post-Covid Economic Recovery
Economic recovery that is green, resilient and inclusive involves building economies and societies where people can experience meaningfulness in life and work, and have confidence in their capabilities to shape their lives. But economics and public policy neglects our human need for meaning. Here, I make the argument for bringing meaning into the design of  work, organisations and systems:
'Rebuilding Economics Post-Covid: the relevance of an economics of meaningfulness'. Director's Seminar, Insitute of Global Prosperity, UCL (October, 2020)
'Post-Covid Jobs and the Quest for Better Work'. Rebuilding Macroeconomics, Exit Strategy Workshop No:6 (June, 2020)
Post-Covid Quest for Better Work, Blog for Kellogg College, Oxford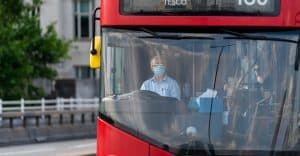 'Can Meaning and Purpose Help Steer Organisations Through Covid-19 ?'. Meaning and Purpose Network, King's College, University of London (May, 2020)
The Meaningful City
Cities are on the frontline of not only the Covid-19 pandemic, but also climate change, social inequalities and technological shifts. Urban development has rarely considered how the need for meaning shapes the motivations of residents and workers to 'make the city'. The Meaningful City describes an ethical, practical and institutional framework for people to create urban spaces that draw upon the identity, history, and culture of the city. By thinking about how post-Covid recovery promotes or inhibits the meaningfulness of lives and work, and incorporating these reflections into city governance and the associational fabric of the city, people will have a fuller understanding of how to mobilise for socio-technical transitions. And to design transitions that provide people with resources for living meaningful lives in the Anthropocene.
JPI Urban Europe – Urban Lunch Talk #14: Taking action on the public space dilemma (June, 2020)
'Dilemmas of Urban Public Spaces'. Policy Report of JPI Urban Europe includes a chapter on energy transitions and meaningful cities (September 2020)
https://jpi-urbaneurope.eu/news/agora-policy-paper/
'Making Meaningful Cities'. Oxford University impact case study of the meaningful city research project (2020).
https://www.ox.ac.uk/research/research-impact/making-meaningful-cities
Ethics, Meaningfulness, and Mutuality (2020)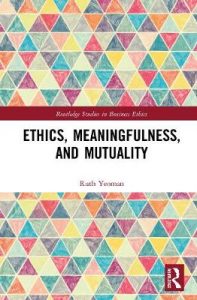 My book – Ethics, Meaningfulness and Mutuality – is published by the Routledge Studies in Business Ethics series. I ask – how can organisations use meaningfulness and mutuality to address sustainability challenges? I explore meaningfulness and mutuality to develop a philosophy of ethical organising that helps us create life value organisations. In the end, it is all about people, power, and planet.
Public Writing
Yeoman, R. & Tischer, D. (2016). Reframing Building Societies and Mutual Insurers: Collaboration as a Source of Competitive Advantage. Kellogg College, University of Oxford. Funded by the Building Societies Association/Association of Financial Mutuals.
Lewis P. & Yeoman, R. (2016). Busting the Millennial Myth: the power of purpose. Funded by FieldFisher and the Eaga Trust.
Yeoman, R. (2013). Governance and Voice: how mutuals and employee-owned businesses create stability, resilience and legitimacy. In: Making it Mutual. ResPublica Essay Collection.
Yeoman, R. (2013). How to Lead Successful Public Service Mutuals. In The Guardian.
Davies, W. & Yeoman, R. (2013). Becoming a Public Service Mutual: understanding transition and change. Mutuo & The Cooperative Group.
Mills, C & Yeoman, R. (2013). The Civic Reinvention. In the RSA Fellowship Journal.
Conference Papers
Yeoman, R (2016). Towards a Right to Meaningful Work in Global Supply Chains. 2nd Symposium of Meaningful Work. Auckland University of Technology, NZ.
Yeoman, R (2016). Care, Emotions and Deliberation in the Corporate Management of Ethical Supply Chains. Business, Policy & Sustainability Conference, Copenhagen Business School. 16-17 June, 2016.
Yeoman, R. (2016). Meaningfulness and Mutuality in a Critical Conception of the Corporation. 2016 AOM Conference, Making Organizations Meaningful.
Bailey, K.; Yeoman, R., Madden, A.; Thompson, M. (2016). Evidence Synthesis of Meaningful Work. 2016 AOM Conference, Making Organizations Meaningful.
Public Speaking
'Current Issues in Ethics and Economics'. Guest Lecturer and Keynote Speaker. Tilburg University Summer School, August 2018.
'The Changing Nature of Work'. Keynote Speaker. European Commission Conference, 'The Future in the Making', FTA 2018.
Creating Sustainable Organisations Using Meaningfulness and Mutuality. 3rd Symposium on Meaningful Work, University of Amsterdam, June 2018.
'The Meaningful City – overview and insights'. 1st Symposium on The Meaningful City, Kellogg College, Oxford, June 2018.
'Meaningfulness and Mutuality in Organization/System Design'. Guest Symposium. The University of Sheffield, May 2018
'Can the Public Sector Create Meaningfulness in Lives and in Work?' Guest speaker. The Finnish Ministry of Finance, Helsinki, May 2018
"'Good Work' and alternative organisations: emancipatory or bubbles of privilege in a world of McJobs?" Guest Panel Speaker – The British Sociological Association conference, Newcastle, May 2018.
'The Future of Meaningfulness – work, organisations and lives'. Keynote lecture for the 'The Future of Work', University of Bucharest, April 2018. http://old.unibuc.ro/~conference/futureofwork/#about
'A Right to Meaningful Work?' Guest Lecturer & Keynote Speaker – Philosophy of Work Conference 2017, University of Braga. http://basicincome.org/news/2016/11/braga-portugal-philosophy-work-conference-jul-13-15/
'Busting a millennial myth: how the young find purpose through employee owned companies' Keynote speaker and author, 2017. Sponsored by Fieldfisher LLP. http://uk.iofc.org/busting-millennial-myth-how-young-find-purpose-through-employee-owned-companies
Research Projects
Ownership, Leadership and Meaningful Work: PI (British Academy/Leverhulme) – organisational development of employee owned businesses using change labs and participatory methods.
Values to Shared Value Creation in Sustainable Supply Chain Management: PI (Oxford John Fell Fund) – corporate/NGO partnership ecosystems in supply chains.
The Meaningful City: PI (University of Tampere and Hermes Investment Management) – applying meaningfulness as a moral value and design principle to city challenges.
Intangible Gold – an examination of intangible assets and organisational models. Led by Professor Birgitte Andersen, Big Innovation Centre.
Integrated Health and Social care (The Said Business School, 2015-2016).Project Manager and Co-I. Provided the intellectual content and networks, and used change lab methodology in a multi-stakeholder system change for a neurodevelopmental care pathway.
Mutuality in Business (The Said Business School, 2013-2016). Co-I/Project Manager. (Funded by Mars Inc)
Association of Financial Mutuals and the Building Societies Association: Leadership in Mutuality. Co-I & Project Manager (funded by the BSA). Investigated the strategic application of mutuality to prospects for a coordinated UK mutual finance sector.
Cheshire West and Chester LA: The Future Role of the Council. PI (funded by CWAC).Examined the application of mutuality to multi-stakeholder approaches to public service transformation in a context of rising demand and financial austerity.
Rochdale Boroughwide Housing (CIC): Leadership in a Multi-Stakeholder Mutual. Co-I & Project Manager (funded by RBH).Addressed the transitional challenges of becoming a dual constituency public service mutual.Designed and delivered a nine month leadership programme, including three two-day workshops, action learning groups and mentoring of the Board and participating managers.